---
In today's fast-paced environments, employee coaching is often a luxury, and those who can work independently are prized. For this reason, we offer performance tools that help individuals and teams to quickly assess their project's health and make needed adjustments.
The "team tools" in the Designing Projects for Success™ series are easy-to-use analytical tools that help project people to reduce risk and influence outcomes.

Available in Microsoft Word, MS Powerpoint, and/or Adobe Acrobat (PDF) formats, the tools lend themselves to customization, residence on company servers, and email transmission.
License fees are very affordable and include permission to adapt. If you are interested in trying out our products/services in a limited engagement, click here for information about our special introductory offer.
Why are the tools so effective?
The tools create neutral ground for the team, so that productive planning, problem solving, and/or issue resolution result. Investment of team time is minimal. For example, the Project View tool can help a team to determine action targets within 2 hours.
The process of use is shown below. Facilitated initial use of a tool(s) is recommended. After that, most teams would be able to use the tools on their own.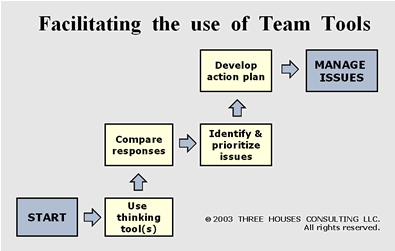 Fully leveraged in an organization, the tools are an excellent mentoring and employee development resource.
A brief description of each tool follows. Read more about each tool.
Project View
Used early or at project conclusion, this short assessment rates the strength of critical project elements. Click here for a sneak peak at extracts from this tool.

Project Sponsor Profile


This role assessment and its companion tool of dialogue questions can assist sponsors and their close advisors to get projects off to a solid start.

Project Manager Profile


This assessment tool emphasizes the integration responsibilities of this key role.

Stakeholder Map


This tool graphically captures the project's stakeholders.

Stakeholder Alignment Chart


This tool evaluates the buy-in level of major stakeholders and can aid in strategies to strengthen stakeholder support.

Project Management Tools & Techniques


A short glossary describes the value of selected best practice techniques that high performing teams use.

Key Relationship Grid


The grid facilitates examination and the development of strategies to improve specific relationships.

Agreement Checklist


This checklist helps to analyze communication patterns associated with critical project elements.
Elegance is simplicity.
Contact us to discuss these useful performance tools.